First-Year Undergraduate Housing
Traditional residence halls, most of which are double loaded corridors with shared/community restrooms on each floor. The majority of rooms are double occupancy, but there are also a fair number of triple occupancy rooms and a small number of single occupancy rooms.
A double room in the Court at Professors Row
The Court at Professors Row (a.k.a. the Court) is a collection of three residences built to house 150 students (50 students in each). All of the rooms in the Court are doubles and include air conditioning.
SMFA:
The Beacon Street Residence Halls are for first-year BFA students attending courses at the SMFA campus. These beautiful brownstone buildings are located right on Beacon Street in Brookline near Fenway Park.
Bush Hall is an all First-Year student hall located downhill, directly next to the Dewick-MacPhie Dining Hall.
Hill Hall is located uphill behind Lane Hall and next to Hillside Apartments with student parking nearby. Hill Hall is home to all first-year students.
Hodgdon Hall located downhill, behind the Dewick-MacPhie Dining Hall close to the Campus Center and the Bookstore. Hodgdon Dining Hall is located on the ground floor.
Houston Hall is located uphill on the Residential Quad, between Cabot Intercultural Center, Carmichael Hall and Carmichael Dining Hall, and next to a student parking lot.
Metcalf is centrally located on Professors Row across the street from the Mayer Campus Center and the Tisch Library.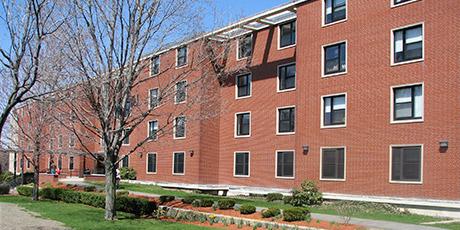 Miller Hall is located uphill on the Residential Quad, and is close to academic buildings, residence halls and Carmichael dining hall.
Richardson House is an all-female residence hall and is centrally located on Professors Row across from the Tisch Library and adjacent to the Mayer Campus Center.
Tilton Hall houses First-Year students and is located downhill between Haskell Hall and Lewis Hall.
Wilson House is the home of our Substance Free housing program. It is located across from Fletcher Field on the corner of Curtis street and Chetwynd Road.